Bethlehem woman inspired by Mother Teresa founds nonprofit to help build wells in Africa.
On Saturday, the missionary from Bethlehem begins a trip that will take her to Kenya, Uganda and Tanzania, among the 30 least developed countries in the world, according to the United Nations Human Development Report. She said this time she is working with another Catholic charity, Apostles of Jesus, to provide wells for villages in those countries.

Benner said travel to Africa is essential to her vocation -- fundraising is only half the job: ''I feel the biggest part of my mission work is going there and being a witness.''

Recent events such as violent protests in Kenya over a disputed election do not deter Benner.

''This is how I know it is God's will and not my will: There's no fear,'' Benner said. ''When I fly, I am alone. If it were my will, I would be scared to travel into these countries.''
Picture of Holly Benner from 2007: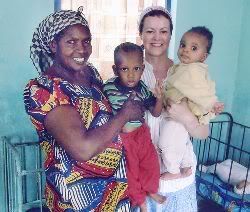 Praying for her in her quest to provide life to the people of Africa.